Summer 2021: 1 day and 2 days Jewellery Courses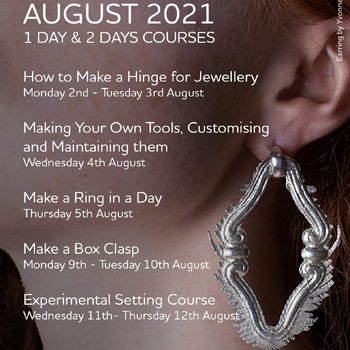 Cockpit Arts, Cockpit Yard, Northington Street London WC1N 2NP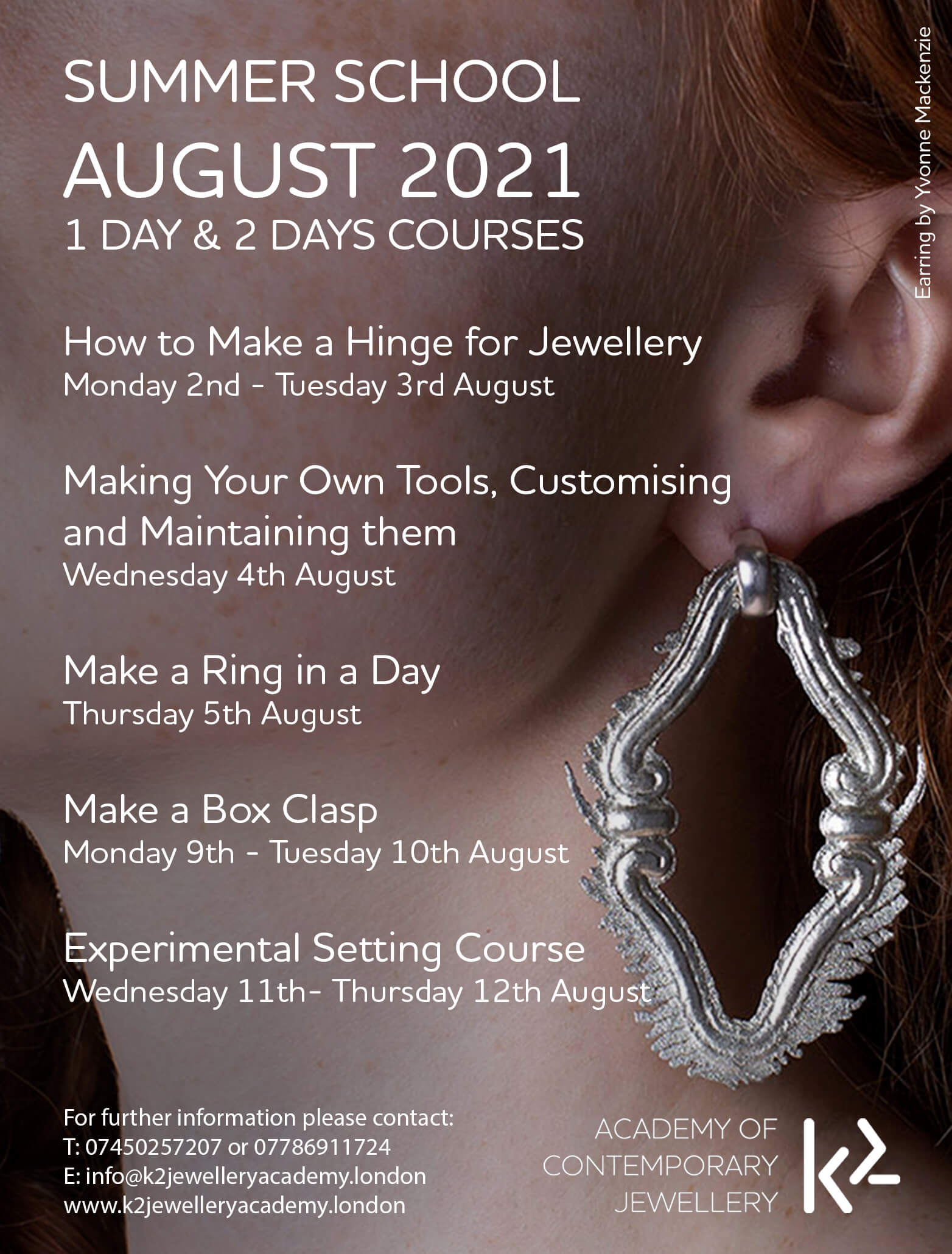 Summer 2021: 1 day and 2 days Jewellery Courses
All Levels
Jewellery short courses focusing on different techniques
2 - 12 August 2021
How to Make a Hinge for Jewellery
2 - 3 August 2021 | 10am - 4pm
2 days course | Intermediate and advanced
On this course you will learn how to make hinges for jewellery pieces, including a cradle hinge. You might be able to finish a hinged locket or clasp, but the emphasis of this class is on the technique of making a hinge, that you can later incorporate into your designs and jewellery. You will be guided in precision work such as measuring and filing. You will be shown how to make a tube and how to cut ready-made tubes correctly, using a tube cutter jig. You will also learn important steps to prepare your work for soldering such as dry assembling and soldering of fine jewellery parts. To finally assemble your hinge, you will learn riveting techniques.
£260 (some materials included, such as silver tubes)
Making Your Own Tools, Customising and Maintaining them
4 August 2021 | 10am - 4pm
1 day course | Intermediate and advanced
On this course we will teach you how to make your own stone setting punch or chasing punch. Working with hard tool steel, you will be shown how to shape, grind and polish your tool and/or how to customise any of your own tools such as pliers. Further we will cover techniques of how to maintain your tools, for example sanding and polishing the face of your hammer, cleaning of machinery, tools and equipment.
£110 (most materials included; you can bring your own tools which you want to customise or be maintained)
Make a Ring in a Day
5 August 2021 | 10am - 4pm
1 day course | Beginners
Have you ever wanted to try your hand in jewellery making? On this 1-day course you will create your own ring. You will measure and mark out your design on a sheet of metal and get an insight into all the fundamental jewellery techniques such as cutting, texturing, bending, soldering and finishing including sanding or polishing. This course is ideal for beginners to learn the basics of jewellery making techniques and to explore creative skills.
£110 (materials included; you'll be given a strip of silver)
Make a Box Clasp
9 - 10 August 2021 | 10am - 4pm
2 days course | Intermediate and advanced
On this course you will learn all the different steps of making a box clasp that can be incorporated into a bracelet or necklace. You will learn how to perform miter joints to form the box, and how to create the traditional closing mechanism including a springy tongue to make a secure clasp. You will learn how to use exact measurements, and you will be advised which materials are most suitable. You will practicing precision in techniques such as accurate filing, measuring and soldering fine parts.
£260 (precious metals not included)
Experimental Setting Course
11 - 12 August 2021 | 10am - 4pm
2 days course | Beginners, intermediate and advanced
On this course you will experiment with different ways of setting stones and other small found objects. On the first day we will focus on trapping stones in liquid metal through casting in sand and/or cuttlefish with pewter or precious metal. On the second day we will cover unusual setting techniques for traditional cut stones or small objects.
£250 (some materials are included such as synthetic gemstones and pewter)
Who are these courses for?
These courses are for all levels, from beginners, intermediate to advanced students who want to learn new skills, deepen their knowledge of certain techniques or just practice what they already know.
Who will be teaching?
The courses will be led by Katrin Spranger and Kelvin Birk. Meet the tutors here.
Date and Time
2 - 12 August 2021
10am - 4pm
Refer to individual course dates above.
Price
£110 to £260
Refer to individual course prices above.
To Book
https://www.k2jewelleryacademy.london/1day-summer-courses
K2 Academy of Contemporary Jewellery
Cockpit Arts, Cockpit Yard,
Northington Street
London WC1N 2NP