'In The Loupe' Exhibition, Vittoria Street Gallery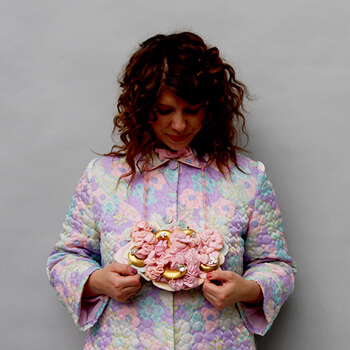 School of Jewellery, 82-86 Vittoria St, Birmingham. B1 3PA


'In the loupe' is an exhibition of practitioners from both the School of Jewellery, Birmingham City University and Plymouth College of Art and Design. The exhibition was created to acknowledge the educational routes of alumni, Victoria Sewart, who is celebrating her 10 anniversary as proprietor of Victoria Sewart Contemporary Jewellery Gallery.
'In the loupe' brings together a vibrant collection of work created by artists, educators, researchers and practitioners from the School of Jewellery, Birmingham City University and Plymouth College of Art and Design.
The eclectic mix of work on show spans the breadth of the jewellery discipline from commercial to contemporary, from handcrafted to digital technologies. These talented jewellers like to experiment with a variety of concepts, materials and processes and this exhibition showcases the diversity of the field. These jewellers are united by their curiosity for experimentation which builds knowledge and expertise within a particular specialism. It's this range of individual directions which underpins the educational experience of students at both institutions, and which ultimately drives the field forward, feeding the innovation seen in Victoria's Gallery.
Each jeweller has established their own unique voice and the eclectic mix of work on show ranges from hyper-decorative, excessive ornamentation of intricate details to bold, vibrant and colourful forms. From concepts that transform the viewer's thinking to jewellery that shocks, the exhibition spans work that is interactive and invites playful encounters and jewellery that borders on material alchemy, reinventing materials and exploring cutting edge digital technologies.
Exhibitors include:
Dauvit Alexander
Beaulagh Brooks
Sybella Buttress
Rachael Colley
Sally Collins
Sian Hindle
Andrew Howard
Bridie Lander
Anna Lorenz
Jo Pond, Claire Price
Zoe Robertson
Fern Robinson
Kate Thorley and
Maria Whetman
Talking Practice
Talking Practice will host a pecha kuccha introducing the artist work, this will take place at the School of Jewellery on Thursday 24 Nov from 5 – 6 pm followed by an opportunity to talk with the artist from 6 – 7pm.
Dates: Monday 14 November to Friday 16 December 2016
Venue: Vittoria Street Gallery, School of Jewellery, 82-86 Vittoria St, Birmingham. B1 3PA
Open: Monday to Friday, 10am to 4pm, term time only. Please note the gallery is not open at weekends.