Gemstone & Hardstone Carving for Jewellery with Charlotte De Syllas - II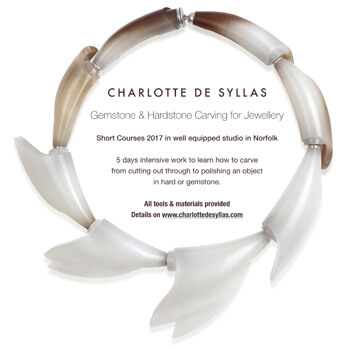 Gemstone & Hardstone Carving for Jewellery with Charlotte De Syllas
A FEW PLACES LEFT
Charlotte De Syllas Short Courses 2017
Intensive 5 Day Workshop Courses
5 days intensive work to learn how to carve from cutting out through to polishing an object
in hard or gemstone in well equipped studio in Norfolk.
About the Short Course
Classes are small and friendly, with expert individual tuition.
We have saws, grinders, carving spindles and micro motors as well as burrs, files & polishing pastes so that you can go from sawing a piece of rough stone to blocking it out, carving it and polishing the finished article all within a single week's course.
We work mostly with the hardstone chalcedony & quartz family, so you will be well prepared when you move on to more valuable gemstones.
If trimming & drilling are what you want to achieve, rather than full carving, you are also welcome to attend.
Past students have found the week fulfilling and fun, learning new skills in a friendly, informal atmosphere – and taking home a finished piece made completely from scratch.
Who is the Course For?
Absolute beginners as well as those with some experience are welcome.
What Tools Will I Need?
All equipment & stone provided.
Dates
17 – 21 July 2017 - Now Full
21– 25 August 2017 - Has vacancies
Location
A spacious studio in Norfolk, 16 miles from Norwich, in quiet countryside.
Class Size
Maximum 5 students per course.
Course places are usually in high demand. Early booking recommended.
Course Cost
Tuition Fee: £550
Deposit of £250 will secure a place.
July course deposit must be paid by 1st June.
August course deposit must be paid by 1st July.
Deposits - non refundable after these dates.
Further Information
Please email any questions you need answering to: info@charlottedesyllas.com
or see www.charlottedesyllas.com