Experimental Setting at K2 Academy of Contemporary Jewellery Cockpit Arts, London
Cockpit Arts, Cockpit Yard, Northington Street, London WC1N 2NP
This course is for all levels.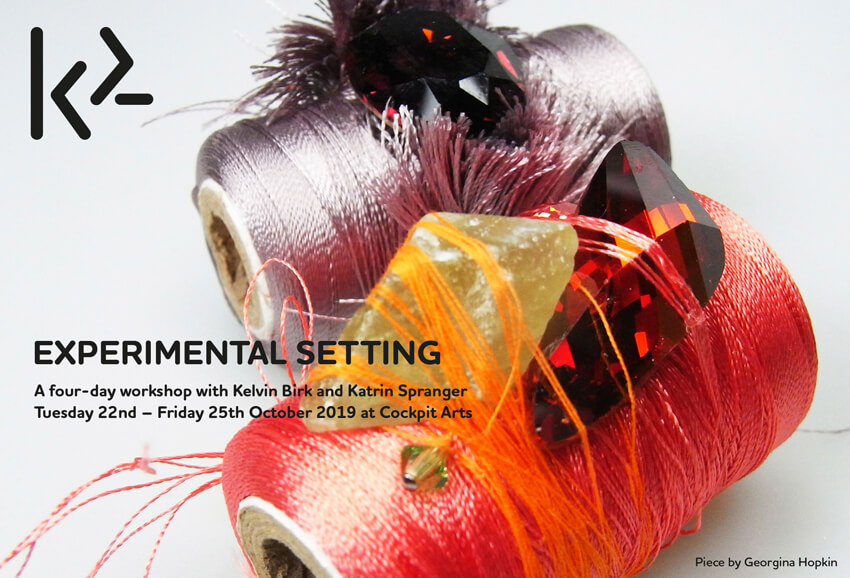 Experimental Setting at K2 Academy of Contemporary Jewellery
Cockpit Arts, London
Tuesday 22
nd

– Friday 25

th

October 2019
A 4 Day workshop led by Kelvin Birk and Katrin Spranger at K2 Academy Of Contemporary Jewellery, London
Experimental Setting
This course will give you the possibility to explore and experiment with different setting techniques and to find new ways to use them in an unconventional way.
The course will focus on different projects
Trapping stones in liquid metal
Using uncommon materials for jewellery making and setting
Setting found objects and small valuable treasures
You will be encouraged to look for a various ways of how to set stones and objects and explore the possibilities of embracing them in alternative ways and methods. The creative journey is as important as the final outcome and the course aims to provide you with new skills and experiences.
Who Is It For?
Jewellers, artists, craft practitioners and students who are looking to explore new approaches to making, who want to get the chance to experiment and broaden their creative working practices. Basic jewellery-making skills are essential.
Who Will Run The Workshop?
This dynamic course will be led by Kelvin Birk and Katrin Spranger, the founders of K2 Academy of Contemporary Jewellery. As highly creative and experienced jewellery practitioners, Kelvin and Katrin have been teaching jewellery design and making at several colleges in Britain and around the world.
About K2 Academy Of Contemporary Jewellery
K2 is a new Jewellery School that offers a conceptual, free-thinking approach to jewellery design underpinned by rigorous technical training. In addition to our ongoing jewellery classes. K2 Jewellery Academy is dedicated to offer master classes and workshops by internationally renowned academics. This masterclass in our ongoing series will be lead by Manon van Kouswijk.
Date And Time
Tuesday 22 – Friday 25 October 2019, 10.00am – 5.00pm
Price
£590 (most materials incl.)
Venue
Cockpit Arts, Cockpit Yard, Northington Street, London WC1N 2NP, UK
Contact
If you are interested in booking, get in touch soon, there are 7 places available.
T: +44 (0)7450 257 207 or +44 (0)7786 911 724
info@k2jewelleryacademy.london