Evening Jewellery Workshop, K2 Academy of Contemporary Jewellery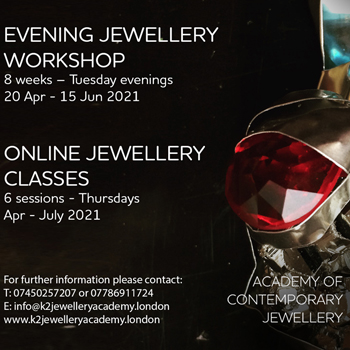 Evening Workshop
K2 Academy of Contemporary Jewellery
All-levels
8-week Workshop | 1 evening a week | Tuesdays
20 Apr - 15 Jun 2021
This evening jewellery course is for students who want to get an insight into jewellery making. You will learn new techniques, practice your skills, refine your designs and work on your own jewellery projects.
Who is the course for?
This course is suitable for students of all skill levels. Beginners will get an insight into jewellery making and learn the basic techniques. This includes learning the correct tool handling and equipment for jewellery making. They will also be taught how to turn their jewellery designs into reality. Intermediate and advanced makers will learn new techniques and broaden their skills whilst working on their own projects.
Who will teach the course?
This course will be led by two of our teachers. A set of classes is taught by Jenny Macdonald, an experienced teacher, jewellery maker and illustrator, who is the head of the Jewellery department at Kensington & Chelsea College. The other set of classes will be taught by either Katrin Spranger or Kelvin Birk. Meet the tutors here.
Date and Time
1 evening a week for 8 weeks - Tuesdays
20 Apr - 15 Jun 2021 (no class on 1 Jun)
6pm – 9pm
Price
£450 (most materials included, except precious metals)