Enamelling Workshop with Danni Schwaag at Vannetta Seecharran Jewellery School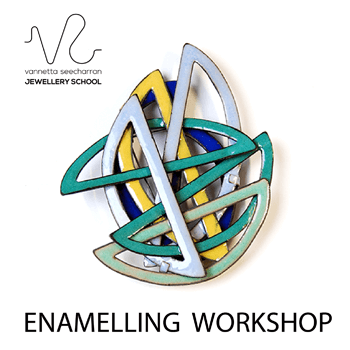 VS Jewellery School, Hatton Garden, London
Enamelling Workshop with Danni Schwaag
at Vannetta Seecharran Jewellery School
Hatton Garden, London
2nd - 5th September
The Vannetta Seecharran Jewellery School is thrilled that German based jewellery artist Danni Schwaag will be visiting our studios in September to offer an enamelling workshop.
The course runs for 4 consecutive days 10am – 4pm, from Monday 2 September – Thursday 5 September.
Enamelling is one of the world's oldest technologies.Its brilliant colour and durability make it a favourable technique to add colour to your jewellery and objects.
About the Course
This workshop is aimed at anyone interested in working with enamel as a way of adding colour and texture to copper, silver or gold.
With a focus on an experimental approach, different techniques including powdering, painting and drawing with enamel will be shown in several steps.
You will have the opportunity to explore all of these techniques, using both opaque and transparent enamels.
No previous knowledge is required.
Note: We will provide copper sheet for your samples or you are welcome to use your own precious metals.
About Danni Schwaag
After training as a goldsmith Danni studied jewellery design in Idar-Oberstein from 2004-2008, spending an Erasmus year at the Escola Massana, Barcelona in 2006. Since then Danni's preferred material has been enamel both as a stand-alone material and in combination with other materials such as ebony, mother of pearl, plastic and acrylic paint. Danni's work is represented in several international galleries. In 2013 she won the Bremen advancement award for applied art for her collection "l'art pour l'art" - an ironic view on the fine art scene.
When
10am - 4pm, 2nd - 5th September 2019
Duration
4 days
Tutor
Danni Schwaag
Qualification
Course completion certificate on request
Price
£552
Venue
VS Jewellery School
13A, 63-66 Hatton Garden
London
EC1N 8LE
More Information
Image Credits
All photos courtesy of Danni Schwaag