David Poston, The Lateral Maker @ The Scottish Gallery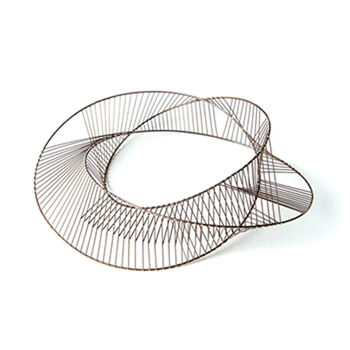 Scottish Gallery, Edinburgh
David Poston: The Lateral Maker
Scottish Gallery, Edinburgh
4 January - 1 February 2020
The Gallery presents a showcase of jewellery from David Poston, covering different aspects of his creative career including his signature work in stainless steel and forged titanium.
Born to British parents in Moscow, Russia in 1948, David was educated in the United Kingdom and graduated from the jewellery design course at Hornsey College of Art. He worked as an artist-jeweller using mainly non-precious metals and other materials from 1970 until 1984. In 1985 David chose to change course by studying for a PhD in Engineering focused on the development of small-scale manufacturing in rural Africa, which led to him assisting in the development of sustainable livelihoods in twelve different African countries. This period has greatly influenced David Poston's work from 2000 onwards.
'In spite of enormous variations, the fascinating aspect of all jewellery is simply that it is worn by people and this defining characteristic fascinates me. I recognise the significance of the wearer's tactile experience and try to avoid the decorative performance basis of most jewellery. When to my surprise I did finally resume making I had mellowed sufficiently to allow myself the freedom to have creative fun with the visual and technical aspects, exploiting my problem-solving obsession to find new and fluently integrated ways of realising ideas. The apparent triviality of jewellery masks its various significance.' - David Poston.
Opening Times
Monday-Friday: 10am - 6pm
Saturday: 10am - 4pm
Sunday: closed
Venue
The Scottish Gallery
16 Dundas Street
Edinburgh EH3 6HZ