Creative Unions - Showcasing the work of this year's graduating Central Saint Martins students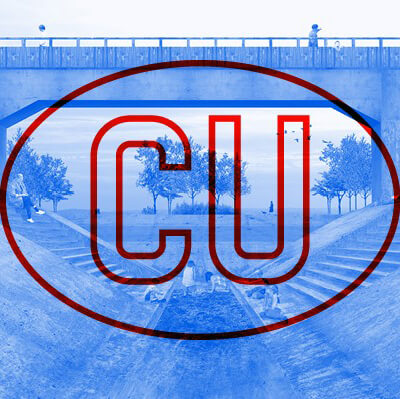 Creative Unions
Central St Martins
Showcasing the work of this year's graduating Central Saint Martins students, Creative Unions celebrates the power of design to further public debate. Fifty-seven projects within six curatorial threads provide alternative responses to the multiple and complex challenges of our turbulent times.
Material Identities
Externalising our hidden, internal workings and materialising challenges against constrictive stereotypes of gender, race and identity.
BA Jewellery Design: Yayun Fang's Hip-Hop Lace manifests her perspective on the way that traditional craftsmanship can add value to contemporary jewellery design. Rows of bobbin lace arranged in geometrical patterns play with hip-hop jewellery and the lace we see in old master paintings.
Designing Resilience
Designing human-centred solutions led by generosity and communication to foster resilience, self-reliance and empathy.
BA Product Design: Taeheon Kim, Croono is a modular make-up brush for men that breaks down the gender barriers of the cosmetic industry by enabling men to assert their own masculinities while participating in a new, previously segregated, market space.
Shared Territories
Examining how the collective identity held by a landscape, structure, institution or archive can inform a sense of self – whether it be imposed or suddenly taken away.
BA Fashion Communication and Promotion: Rudi Edwards' first issue of Realest is inspired by his mixed race and northern heritage paying homage to the female communities, families and friends he grew up with and revealing their lives and experiences through text and image.
Making Public
Focusing on process to demystify the often hidden, private workings of communication with and designing for the general public.
MA Industrial Design, Stanya Petkova's Activote is a game that prompts discussion in a fun and safe place around personalised themes - a political event, social disturbance or a personal view - the player's choice. Activote will enable more informed and educated decisions and create alert and aware citizens through activities, updated data and lively debate.
New Histories
Investigating family stories, narratives passed down through generations, mythical, stories of community and reinventing or reconnecting through image or language.
BA Textile Design: Fadzi Sango's Amai is an exploration of the concept of Motherland. Instigated by the political events in Zimbabwe in November 2017, Sango turned to old photographs of her mother and mother figures from Zimbabwe, taken between 1960 and 1980, contrasting them with imagery from the November protests. Her resulting series of fabrics examines the conflicting narratives of the country, using the trajectory of familiar patterns and fabric to counter uncertainty.
Coded Intimacy
Re-evaluating the relationship between the distanced and the intimate – the mediation of our actions and ourselves through manipulation and technological advancement.
BA Graphic Design, Irene Albino and Ellen Jonsson - </unravel;> is a performance of the making of a knitted manifesto which unravels ideas and preconceptions of binaries: craft and design, analogue and digital, female and male, zeroes and ones. Using a hacked knitting machine, this project aims to re-create a communal space where DIY open source coding projects and craft activities bring people together to aspire to change. The medium becomes the message.
CSM/LVMH Maison/0 Green Trail was initiated at the 2018 Degree Shows to highlight the projects that engage with sustainability in the most innovative and challenging ways. Several of these have made it to Creative Unions including - From left to right: MA Material Futures Jen Keane - This is Grown, has developed a new form of microbial weaving to create a new category of hybrid materials that are strong, lightweight and potentially customable to a nanoscale. BA Fashion Paolina Russo – I Forgot Home – Ball Gown, reflects on her teenage years in Markham, Canada by deconstructing sports gear and equipment before crocheting them together with unravelled blankets –all scoured from local stores or donated by neighbours from her home town. MA Design; Ceramics, Furniture or Jewellery Edwin Charmain – Pusaka reworks the Indonesian craft batik and traditional skills in recycled sterling silver.
"When we launched Creative Unions in the spring of 2017, it was in the context of a very particular political, social and cultural landscape. It was while the implications of Brexit were just being realised, and Trump had only just been elected. Creative Unions was posited as not so much a rebuttal to these toxic forces but as a potential release, operating under the simple premise that creativity does and must operate across all forms of boundaries. "Since 2017 the external conditions have, if anything hardened, as factions become ever more polarised; far from Creative Unions having run its course, I would argue that it is more needed than ever. Hence the second iteration of the Creative Unions exhibition. Where last year's exhibition was immediately reactive to the context and time and so had elements of both humour and anger, we anticipate this year's show will be more directly propositional, showing how design might be used constructively in the overcoming of boundaries, and how an institution like CSM might be an active agent in the furthering public debate."

Jeremy Till Head of Central Saint Martins, University of the Arts London
Exhibition Venue
Lethaby Gallery - Lethaby Gallery and Window Galleries
Central Saint Martins UAL
The Granary
1 Granary Square
London
N1C 4AA
Exhibition Run
London Design Festival opening times, 15 - 23 September:
Daily: 11am - 6pm
Opening times, 25 September - 27 October:
Tuesday to Friday: 11am - 6pm
Saturday: 12pm - 5pm
More Information