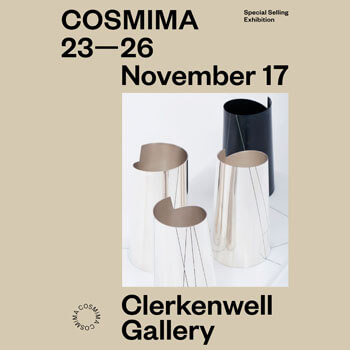 COSMIMA
The 13th annual showcase of contemporary jewellery and silverware from the COSMIMA collective
23 - 26 November 2017
Clerkenwell Gallery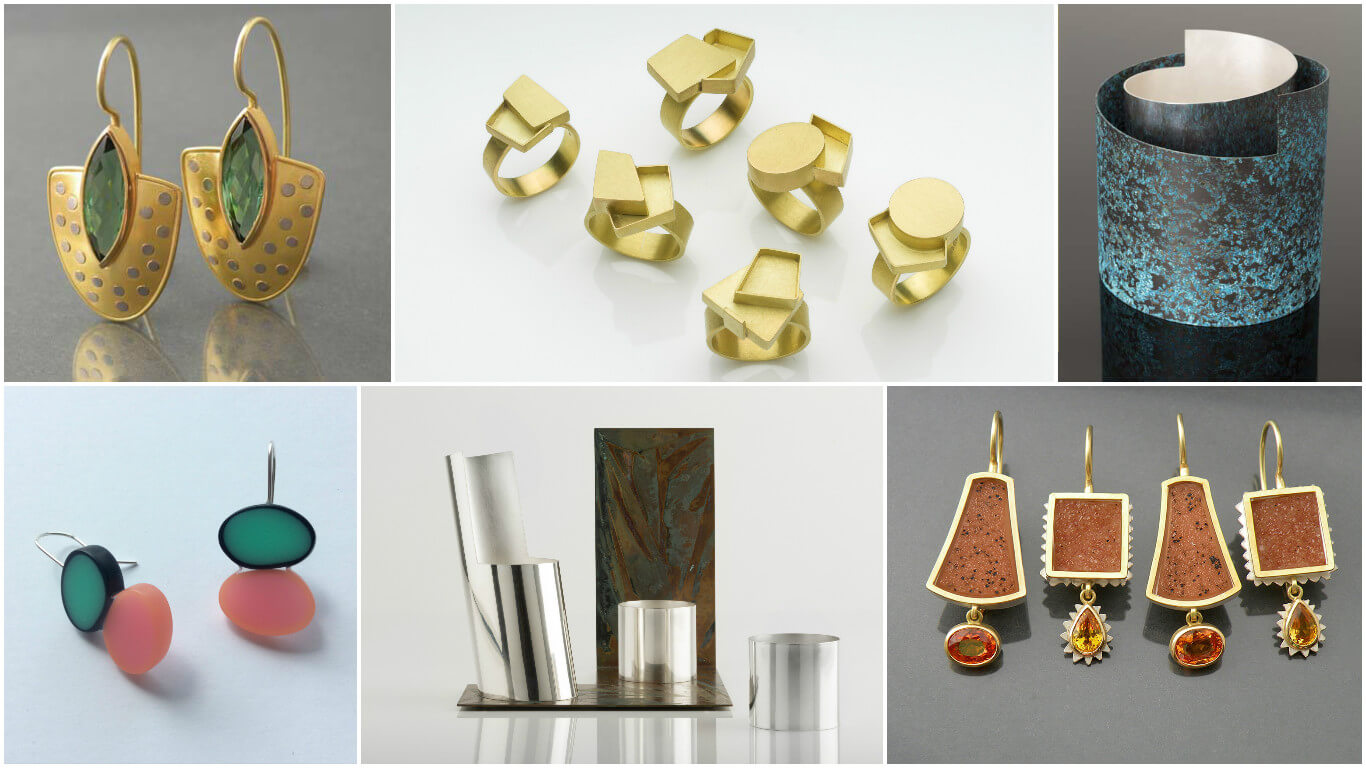 COSMIMA presents the latest handcrafted jewellery and silverware from nine leading UK designers. For the 13th show, the five fine jewellery designers of the COSMIMA collective have invited two jewellers working in non-precious materials and two silversmiths to join them this November in Clerkenwell.
One-off pieces in silver, gold and precious stones sit alongside compositions crafted using resin and enamel; all hand made in the UK, displaying an exciting array of processes and sculptural forms. All works will be on show and for sale from 23rd – 26th November with a private view on Wednesday 22nd.
Guest designer, silversmith Rebecca de Quin explores sculptural constructs of replication and inversion with her vessels, while Hazel Thorn's fragmented works are formed in response to the patterns in the metal she creates.
Guest jewellers Jessica Turrell and Kathie Murphy show how non-precious materials can create playful and dynamic pieces; Kathie celebrates colour in resin, while Jessica experiments with enamel to create intricate tactile surfaces in her jewellery.
COSMIMA are known for selecting respected and cutting edge designers for their annual show. All nine designers exhibit internationally and their works can be found in the collections of the V&A, the Goldsmiths' Company and Crafts Council.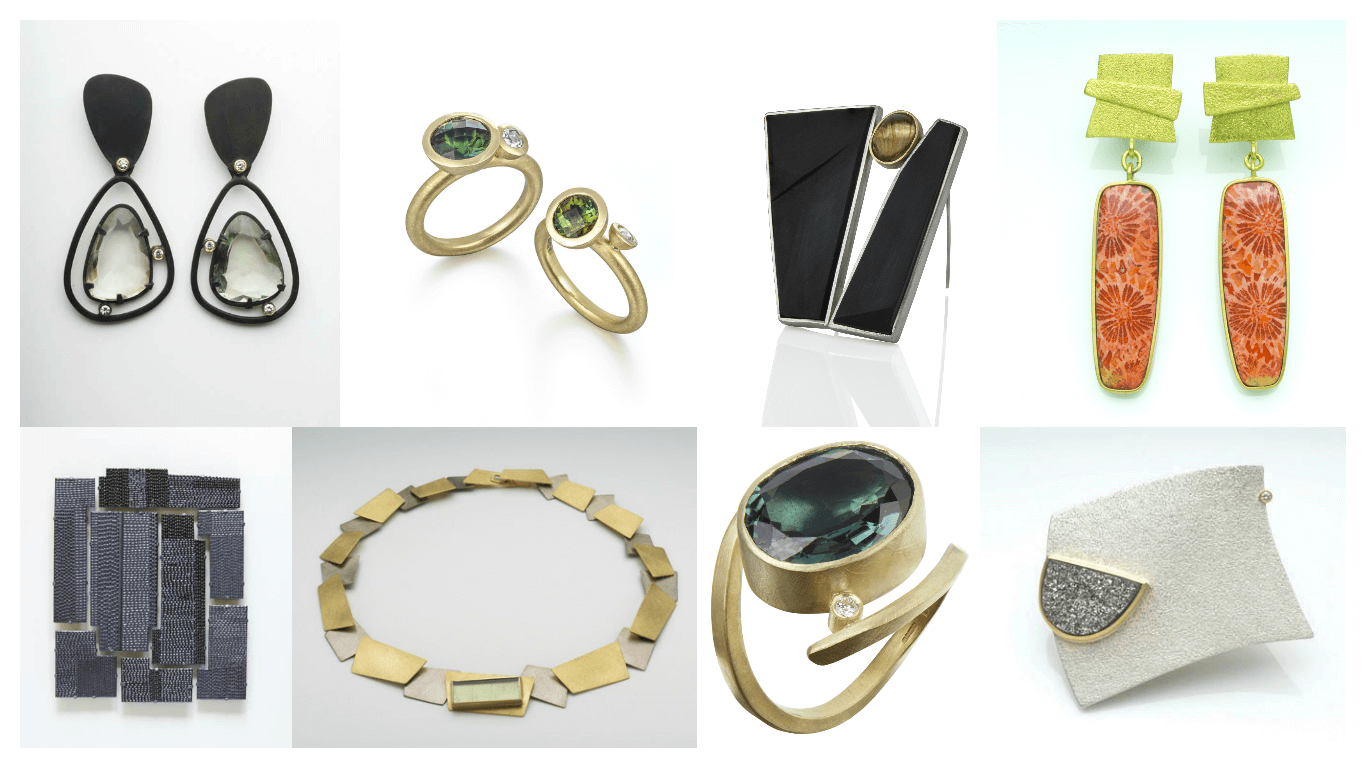 The five core members of COSMIMA are Hidemi Asano, Chris Carpenter, Ulla Hornfeldt, Daphne Krinos and Louise O'Neill; fine jewelers and contemporaries who met over thirteen years ago and have collaborated ever since, while building profiles independently for their work around the globe.
The work of each designer is distinctive but bound by a commitment to craftsmanship, quality and consideration of processes, materials, techniques and visual narrative. This year colour and movement emerge as a central themes across the work from all nine designers. From Daphne Krinos' geometric, layered and articulated pieces, to the delicate patterns and colour gradients in Louise O'Neill's jewellery and textured metals from Hidemi Asano, the organic forms from Chris Carpenter to the unique and vivid stones used by Ulla Hornfeld.
DAPHNE KRINOS, whose work can be found in the collections of the V&A, the Goldsmiths' Company and the Crafts Council, is known for her architectural and graphic style, inspired by urban landscapes of London and Greece: "I have always been interested in man-made structures such as metal fences, scaffolding, and buildings in various states of development or decay, demolition sites, as well as street art." Her sculptural work is instantly recognisable, with bold lines of black oxidised silver offset by vivid translucent stones, dramatic articulated or layered compositions combine angular, geometric forms in a mixture of metals.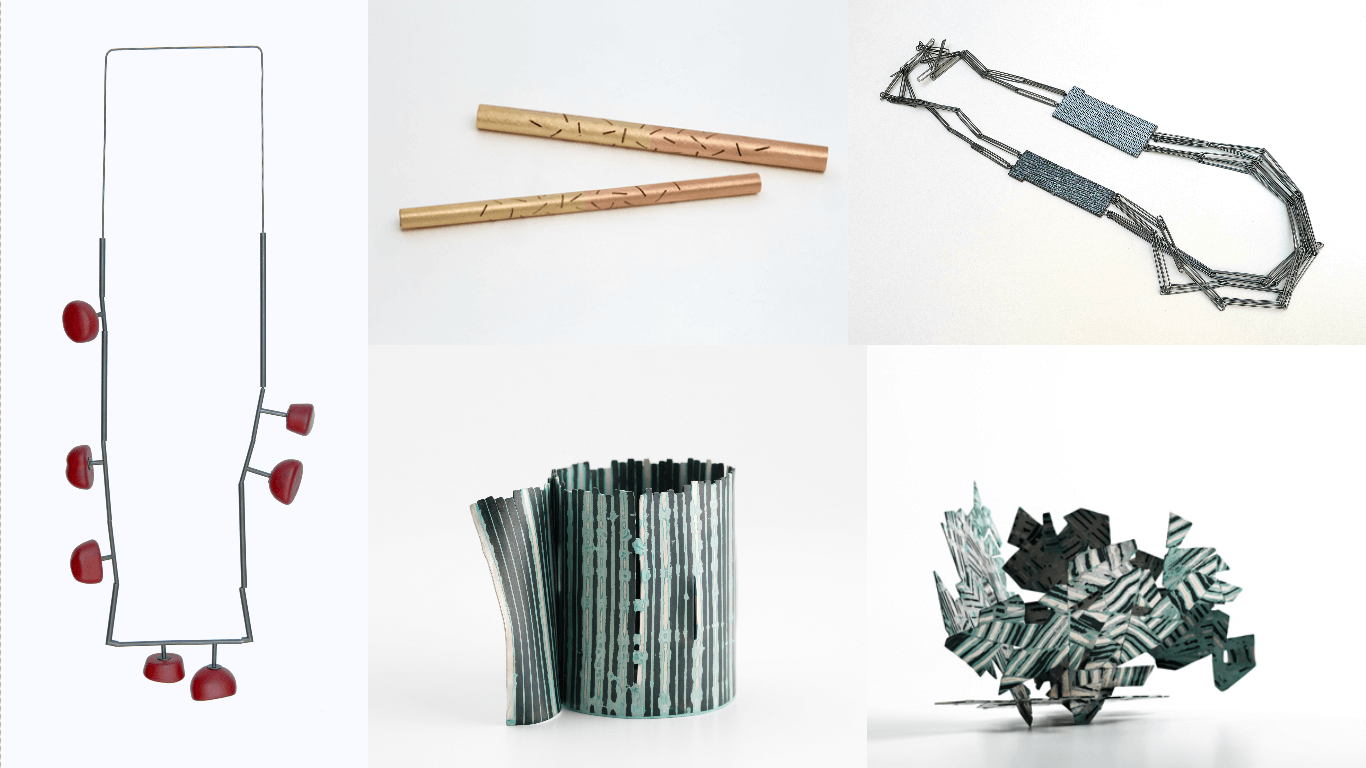 Inspired by landscapes, HIDEMI ASANO explores the softness and strength of natural forms. She applies Japanese minimalism to her dynamic and tactile forms, "to harmonise my origin with life in the UK". Asano's characteristic style has continued to develop throughout her collections, from the fluid interpretations of branches and bamboo, accented with precious stones, to the abstract layering and textured surfaces in silver and gold of her most recent work.
CHRIS CARPENTER creates one-off designs with an organic and dynamic quality. Forms evolve through working with paper, card and wire, the final abstract and sinuous shapes in precious metals are combined with an array of stones and textures, giving the characteristic depth and rhythm to the pieces.
The focus of ULLA HORNFELDT's work falls on the dramatic gemstones, chosen for their striking and intriguing patterns. Ulla frames these unique stones in precious metals, using strong sculptural lines and negative space. The refinement of LOUISE O'NEILL's jewellery is characterised by the simplicity of line and purity of form. Her most recent work explores effects produced by piercing and patterning precious metals and the combination of an array of shades in varying gold alloys, creating a rhythmic and graphic quality.
HAZEL THORN is an award winning silversmith and jeweller. She the only contemporary maker to have developed the technique of fusing different metals sideways to create sheet metal with variations in colour and pattern. She then forms her sculptural vessels responding to the patterns created. She has a unique approach to making and is keen to push the boundaries of working in metal.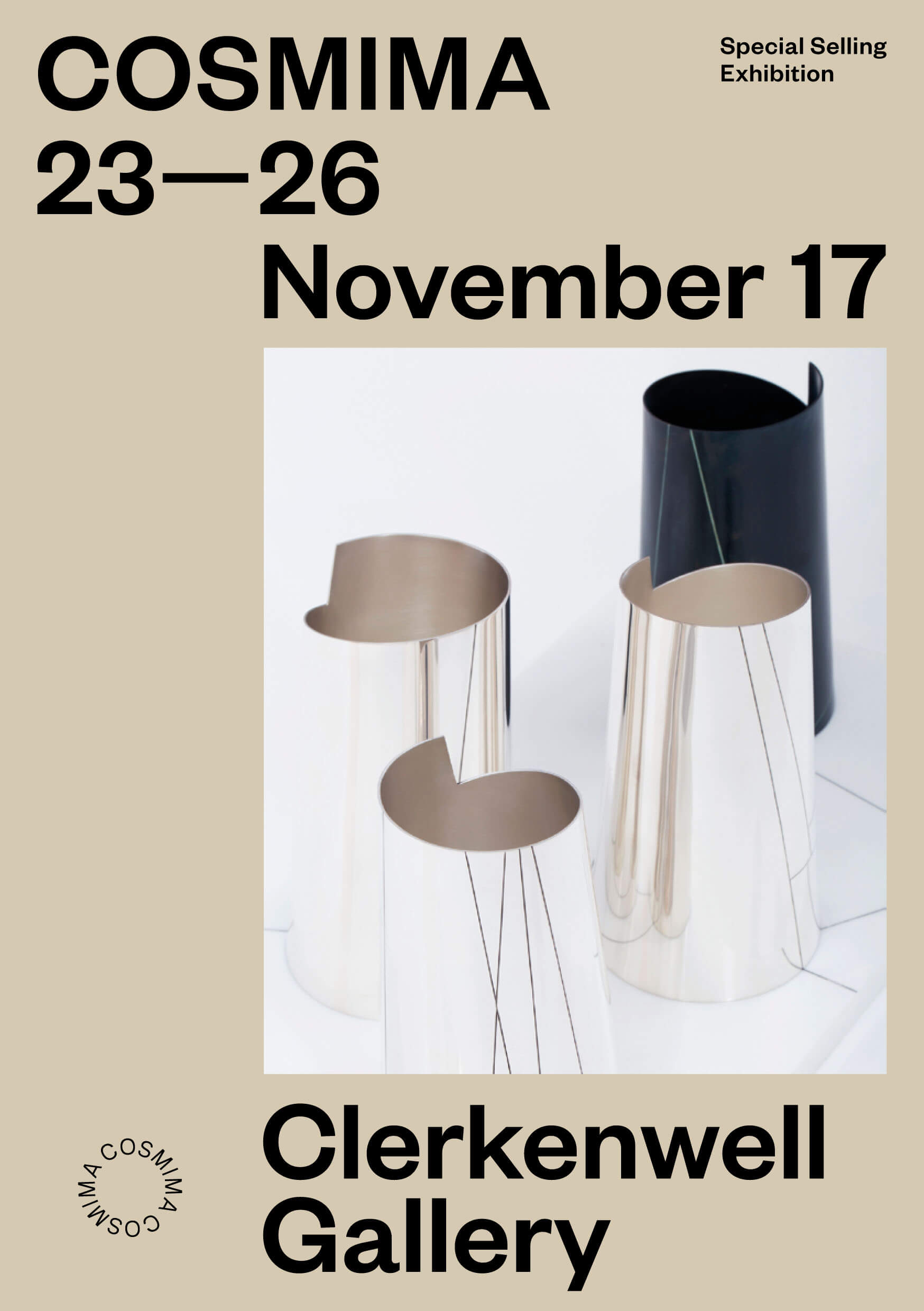 REBECCA DE QUIN, a tutor at the RCA in the department of Goldsmithing, Silversmithing, Metalwork and Jewellery, is represented within the collections of Crafts Council, Birmingham Museum and the Goldsmiths' Company and her work has been shown in major exhibitions internationally. Her current work is inspired by Modernism and the Purist paintings of Le Corbusier and Ozenfant and incorporates silver with non-precious metals, highlighting the preciousness of silver and exploring sculptural constructs of replication, inversion, positioning and scale.
JESSICA TURRELL has exhibited internationally and her jewellery features in the permanent collections of the Crafts Council and Fondazione Corninell. Her experimental approach to working in enamel
challenges traditional techniques in order to achieve a more ambiguous and expressive material quality. In both her jewellery and larger scale work she strives to obtain a tactile delicacy whilst making pieces that reward the wearer's close attention with an intricate and detailed surface.
KATHIE MURPHY is one of the top jewellers working in polyester resin in the UK and she has written two books on resin. She is a respected and widely collected maker, who has a sensitive approach to colour, often combining translucent and opaque to great effect.
Dates
23 - 26 November 2017
Open
Weekdays 12-8pm, weekends 12-5pm
Private View: 22 November, 5-8pm
Venue
Clerkenwell Gallery, 20 Clerkenwell Green London EC1R 0DP