Contemporary Jewellery Classes with Jessica Turrell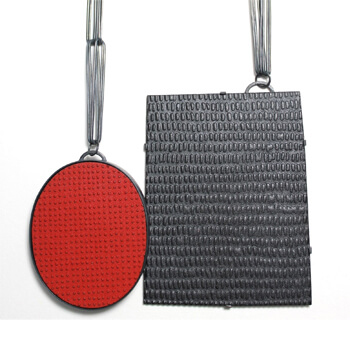 Bristol School of Art, Queens Road, Clifton, Bristol.
This course will allow you to explore a contemporary approach to jewellery making using both traditional and alternative materials and techniques
This 25 week course will encourage a contemporary approach to jewellery making and using both traditional and alternative materials and techniques. Students can choose to work on a series of set briefs or on individually negotiated projects.
What will I learn?
The course covers techniques including: silver soldering, saw piercing, surface texturing, forming, annealing, wire and sheet metal techniques, and making fittings and findings.
The course will also cover the use of alternative materials such as wood, paper and plastics. Students will also have an opportunity to work with contemporary enamelling techniques.
How will the course be delivered?
Each new technique or project will be introduced via a series of practical demonstration, followed by hands on practical work. The tutor will provide regular feedback and one to one technical and advice.
Do I need any experience?
This course is suitable for students with no previous experience but would also suit intermediate and advanced students who want to build on their existing skill base.
What do I need to bring to my first class?
The studio is well equipped and all necessary tools will be provided but students might like to bring their own tools if they have them. Base metal will be provided free of charge. A notebook or sketchbook would be useful.
Are there any extra costs?
Some materials will be supplied. If students wish to work with silver they will be expected to order and pay for as required. The tutor will be able to advise.
About my Tutor
Jessica Turrell is a well-established jeweller and educator who has exhibited widely, both in this country and internationally. Jessica has over 25 years teaching experience. She has a degree in Jewellery Design from Central St Martins and an MA in Multi-disciplinary Printmaking from the University of the West of England. Jessica's work focuses primarily on the use of vitreous enamel using non-traditional techniques she has researched and developed over a number of years.
www.jessicaturrell.co.uk

Contemporary Jewellery - Jessica Turrell
Start date: 12/10/2016
End date: 10/05/2017
Day(s): Wednesday
Duration: 3 hours per week
Course length: 25 weeks
Time(s): 6.00pm – 9.00pm
Venue: Bristol School of Art, Queens Road, Clifton, Bristol. BS8 1PX
Qualifications: None
Code: FFLX09EH
Cost: £487
To Book: www.sgscol.ac.uk