Bounded + Unlimited Contemporary Jewellery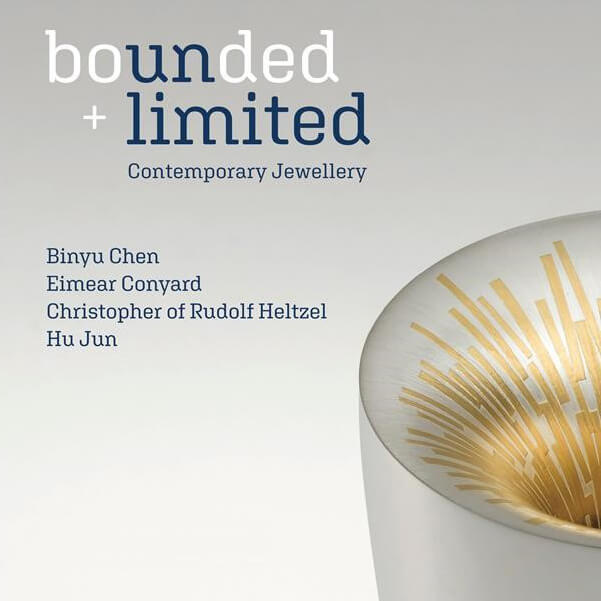 National Design & Craft Gallery, Kilkenny

Bounded + Unlimited Contemporary Jewellery
Bounded + Unlimited is an exhibition of exceptional precious jewellery and goldsmithing by four contemporary jewellery artists from Ireland and China. The exhibition explores the parallel working practices of these jewellery artists across design, techniques and materials, from the perspective of differing cultural contexts. The title refers to how the artists are bounded by their respective personal and national cultural experiences, yet unlimited in opportunities for communication and understanding through the traditions of their craft.
The two Irish jewellery artists represented are Eimear Conyard, manager of the Design & Crafts Council of Ireland's Jewellery Goldsmithing Course and a practicing contemporary jewellery artist and Christopher Heltzel, of the long established and renowned Rudolf Heltzel. The two jewellery artists representing China are Hu Jun, a professor of Jewellery and Silversmithing at the Beijing Institute of Fashion and Technology and Binyu Chen professor at the School of Art of Beijing City University.
All four jeweller goldsmiths are internationally recognised and have extensive experience within jewellery and goldsmithing education. A series of masterclasses, lectures and educational initiatives will coincide with the exhibition in both Ireland and China.
Bounded + Unlimited concides with the celebrations of the Chinese New Year and will travel to White Peacock Art Gallery in Beijing and ZBird Gallery Shanghai in Summer 2018. The project is the first Ireland-China precious jewellery exchange and was initiated to develop closer links between the countries respective jewellery markets.
Exhibition Run
2 February - 18 April 2018
Venue
National Design & Craft Gallery
Castle Yard
Kilkenny
Ireland