Bishopsland Exhibition & Sale at Clothworkers' Hall, London
Clothworkers' Hall, London
Selling Event & Exhibition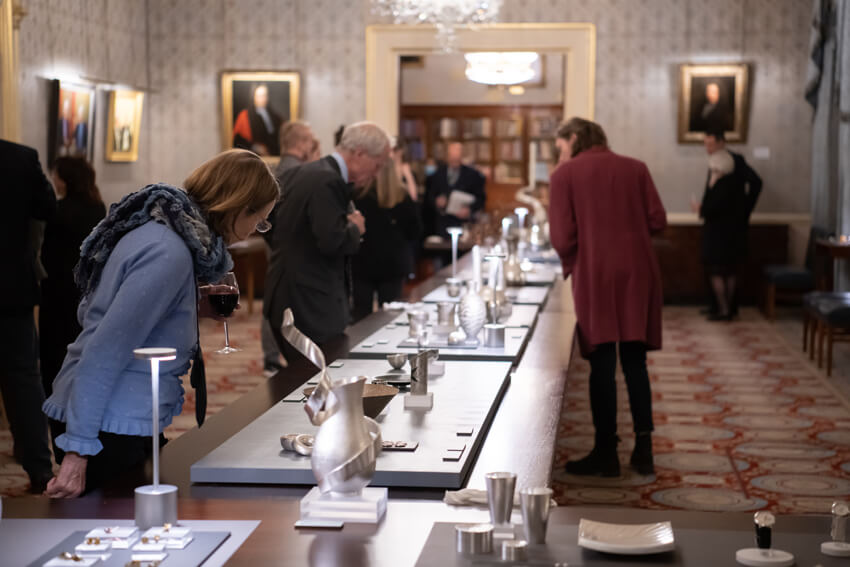 Bishopsland Exhibition & Sale
at Clothworkers' Hall, London
Monday 28 November 4pm - 8pm
On behalf of Bishopsland Educational Trust we have pleasure in inviting you to an exclusive, free, early evening event at Clothworkers' Hall, London, on Monday 28 November 2022.
Please register to attend here.
We are honoured to be supported by over 30 of the UK's leading silversmiths and jewellers including Claire Malet, Jane Adam, Theresa Nuygen, Kayo Saito, Angus McFadyen and Miriam Hanid. It will also be an exciting opportunity for our current cohort of emerging makers to exhibit work made since they commenced the Bishopsland programme in September 2022.
All items will be for sale and a percentage of the proceeds will go towards funding the work of Bishopsland Educational Trust, the only postgraduate residential facility in the UK supporting talented & emerging silversmiths and jewellers.
The event is free and includes:
·4pm to 8pm (last entry 7.30pm) - general admission to the exhibition with welcome drinks and canapés
5pm - Seated 30 minute talk by Dr Tessa Murdoch - 'Institutional patronage and the Clothworkers' approach to a special commission in the past and present'
6.30pm - Seated 30 minute talk by Dr Dora Thornton - 'Supporting contemporary makers: recent acquisitions for the Goldsmiths' Company Collection'
This event is free but pre-registration is required - please register your place here or follow this link:
Bishopsland-Silver-2022.eventbrite.co.uk
The Clothworkers' Company possesses one of the oldest and largest collections of plate in the City of London. With recent additions by past Bishopsland Alumni including Theresa Nguyen and Angela Cork, we are honoured that they have opened their Hall for our exclusive use.
If you are unable to join us on 28 November, there are other ways to support Bishopsland:
Christmas @ Bishopsland online will take place during December and will be an opportunity to purchase items from both former Fellows and the current resident designer makers. You can participate by visiting our online shop
Donations that go directly to funding the annual teaching programme for our 2022/23 residents can be made here or http://easydonate.org/CLOTH22
We very much hope you will be able to join us at Clothworkers' Hall on 28 November - if you have any questions, please do not hesitate to contact me c.murdoch@bishopsland.org.uk.