Bulevardul Regina Elisabeta 5, București 030167, Romania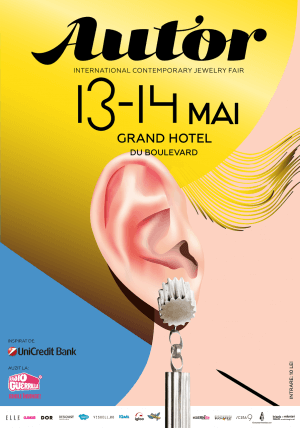 AUTOR 2017
90 artists, 5 continents, all senses
Close your eyes.
How do you think a ring sounds like?
What's the taste of a bracelet?
Come to listen, see and taste contemporary jewellery from 5 continents at AUTOR, the International Jewellery Fair on 13 and 14 May, at the Grand Hotel du Boulevard.
The only international event of contemporary jewellery in Southeastern Europe and one of the three in Europe is preparing for the 16th edition.
We give you more. 90 designers are presenting for the first time their collections at AUTOR and are drawing a map of a complete and complex event – from Japan, Argentina, and the USA to Finland, Canada, or Israel, voices and tastes gather together in the most intense event of contemporary jewellery.
The world seen by Mona – Focus Designer at AUTOR 2017: "This body of work is a protest and a confession: the pain of the forest, that it is also my pain," says Mona Velciov. The "Deforested" collection is about deforesting the last virgin forests in Europe, it's a reaction and a statement. Jewellery is communication – we wear how we feel.
AUTOR Awards&more. Because the AUTOR Awards are expanding with each new edition, here's what's new in 2017: Athens Jewellery Week Award gives to a certain designer an invitation to participate in the latest event in the world of contemporary jewellery, and myday-byday Award: 7 days of 'personal exhibition' in the contemporary myday-byday jewellery gallery in Rome.
The usual awards remain: AUTOR Awesome Award for the most promising artist participating in the fair; Assamblage Award: a course offered by Assamblage – the Contemporary Jewellery School to an emerging designer; Krama Institute Award – a jewellery course at the Krama Jewellery Institute in Athens. And the list goes on: The Public Prize – you know what it is, so go vote; ELLE Award (special article in the magazine), and last, in a random order, the F-M-Award consisting of promotion in the online community and presence in Molecule-F store.
AUTOR. Contemporary Jewellery
Dates
13 - 14 May 2017
Venue
Bulevardul Regina Elisabeta 5, București 030167, Romania