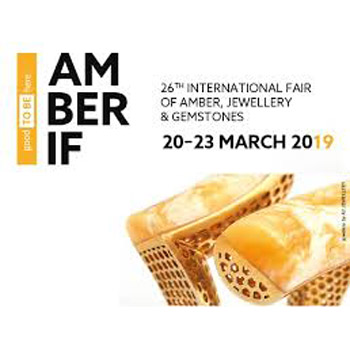 AMBEREXPO, ul. Żaglowa 11, Gdańsk, Poland
Amberif 2019
20 23 March 2019
Amberif is the world's most important amber exhibition and the largest jewellery event in Central and Eastern Europe. Here business meets art, creative ideas are born, the latest trends and technologies in jewellery design are presented.
Amberif brings together 470 exhibitors from all over the world and 6,000 trade visitors from 54 countries, with the largest contingents from Russia, Germany, Lithuania, Ukraine, China, UK, Latvia, Sweden, Italy, Denmark, Finland, USA, France, Hungary, the Czech Republic, Estonia and Canada. The event is accompanied by exhibition previews, workshops, scientific seminars and discussion panels. AMBERIF's highlight is the evening AMBER LOOK Trends & Styles Amber and Fashion Gala.
Amberif is a trade-only event, addressed to individuals and businesses who trade in jewellery, jewellery art and functional art.
Amberif 2019
20-22.03.2019, 10:00-18.00 | 23.03.2019, 10:00-16:00
AMBEREXPO, ul. Żaglowa 11, Gdańsk, Poland