3D CAD Designing and Printing Course at the Vannetta Seecharran School of Jewellery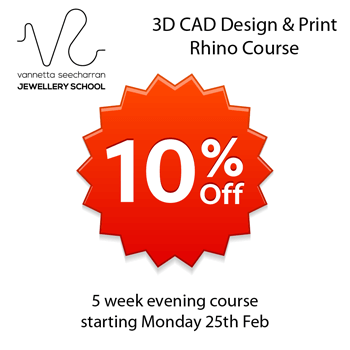 13a, 63-66 Hatton Garden, London EC1N 8LE
3D CAD Designing and Printing Course
This is an evening course beginning on Monday 25th February, meeting one evening each week for 5 weeks from 6.30pm - 9pm. This is a beginners course aimed at anyone interested in learning how to design with the 3D Design computer program Rhino. The course is suitable for jewellery makers, small-scale sculptors and anyone interested in 3D modelling with a view to creating physical objects.
Modelling ideas in 3D widens the scope for jewellery designers, allowing for more intricate, elaborate and innovative designs. This course is an excellent taster and the perfect introduction to the basics in 3D modelling. This course will take you through the entire process of designing a piece of jewellery to finishing a piece of jewellery.
You will learn to use basic commands in different ways to design one or two jewellery pieces such as a ring or a pendant. Topics include setting up the user interface and layer palette; converting your design ready for 3D printing; introduction to working with digital printing companies; polishing and finishing silver jewellery.
During the 5 weeks, you will design a simple ring with a stone using the Rhino software. Once your design is printed in plastic we will send it to a jewellery casters to be cast in silver. The pieces will be returned to you ready to be polished into a lovely piece of jewellery for you to take away.
10% Discount Available
Reply mail@vannetta.com for 10% discount
Venue
VS Jewellery School, 13a, 63-66 Hatton Garden, London EC1N 8LE
Price
£245
Class Times
6:30pm to 9pm
Qualification
Course completion certificate on request
Tutor
Joana Cunha
For More Information
www.vsjewelleryschool.com/rhino-cad-evening
Note: Students pay for their own 3D printing and silver castings.