20:20 Visions - Association for Contemporary Jewellery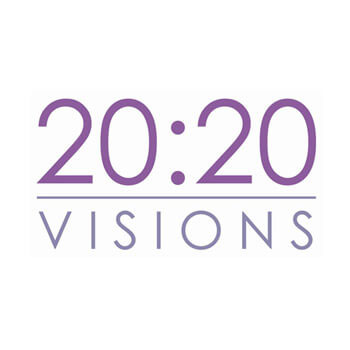 School of Jewellery, Birmingham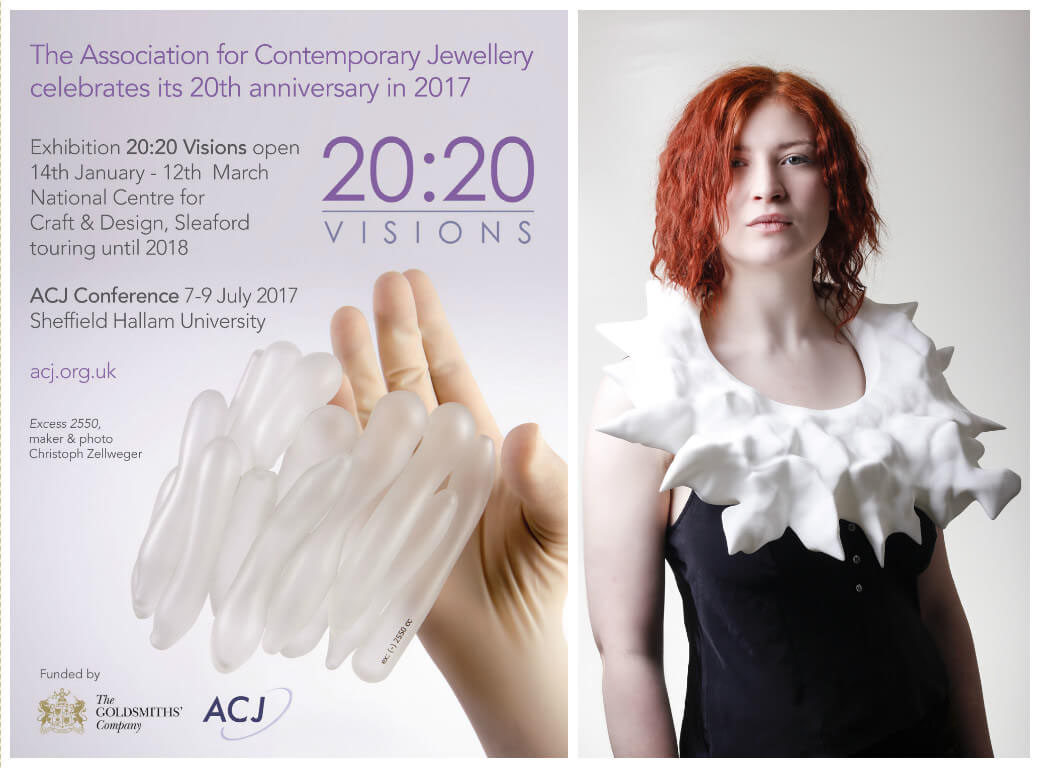 20:20 Visions
Celebrating twenty years' work from the Association for Contemporary Jewellery
The 20:20 Visions exhibition boasts that it shows the best of the new jewellery and conveys progression in design and techniques over the last twenty years.
The exhibition is in two parts 20:20 and Visions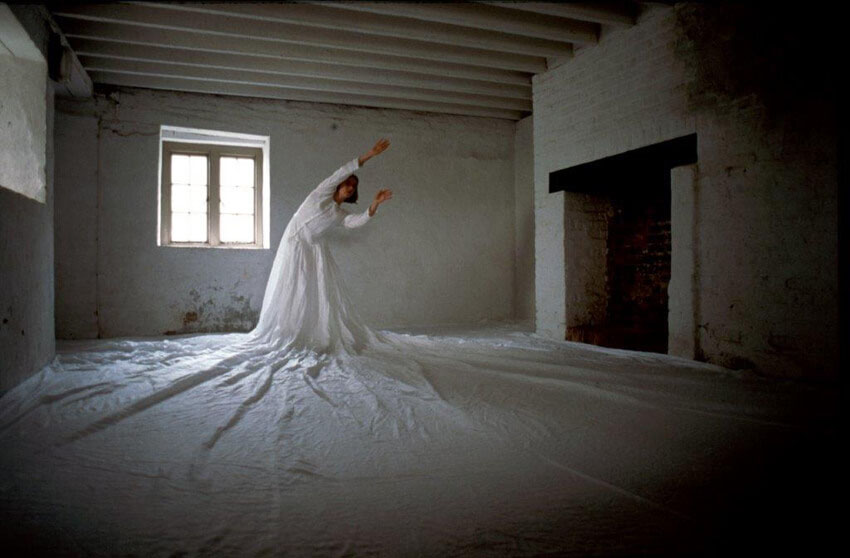 20:20
Twenty of our most prominent and innovative members have been invited to show work from c1997 alongside a new piece.
The twenty invited guests are:
Jane Adam
Holly Belsher
Stephen Bottomley
Caroline Broadhead
Norman Cherry
Jack Cunningham
Susan Cross
Joel Degen
Maria Hanson
Jan Hinchliffe McCutcheon
Dorothy Hogg
Terry Hunt
Daphne Krinos
Jacqueline Mina
Adam Paxon
David Poston
Ann Marie Shillito
Jessica Turrell
Christoph Zellweger
Frances Julie Whitelaw
These have been Founder Members, Chair or Board members and include many of the most respected British jewellers of the 21st century.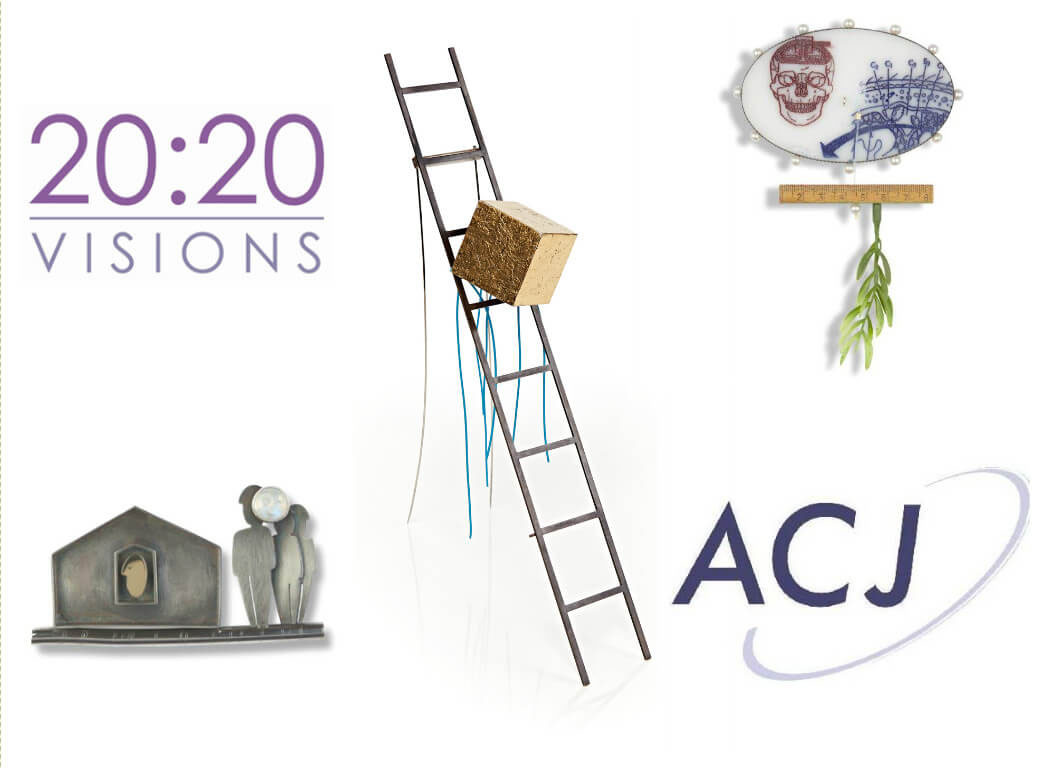 Visions
The second part of the exhibition shows a selection of the best work from 31 current members, juried by an exhibition Panel: Kath Libbert, respected gallerist, Peter Taylor, Director of the Goldsmiths' Centre, Rebecca van Rooijen, Editor of Benchpeg, and respected jeweller John Moore.
This part of the exhibition will show the full breadth of materials and techniques being used in cutting edge jewellery. ACJ currently numbers some 500 members. Here is a selection of the best of their current work with materials ranging from paper, plastics and mixed media to gold, silver, copper, brass, titanium, aluminium, found objects and electronics. New technologies and techniques sit with traditional methods of construction.
All of the pieces are wearable, however the scale covers the miniscule to the majestic. Conceptual work contrasts with the purely decorative, and all the pieces are made to the highest standards.
The 31 members selected by the panel:
Dauvit Alexander
Kate Bajic
Hendrike Barz-Meltzer
Jessica Briggs
Toby Cotterill
Karen Dell'Armi
Amanda Denison
Gail Ferriman
Gill Forsbrook
Irmgard Frauscher
Anne Havel (USA)
Joanne Haywood
Susi Hines
Courtney Hyland
Christine Johnson
Stephanie Johnson
Emily Kidson
Loveness Lee
Katy Luxton
Fritz Maierhofer (Austria)
Lieta Marziali
Jo McAllister
Annamária Mikulik (Slovakia)
Jane Moore
Jo Pudelko
Zoe Robertson
Louise Seijen ten Hoorn
Elizabeth Shaw (Australia)
Rebecca Skeels
Anne Walker
Anastasia Young
Exhibition Tour Dates
20:20 Visions opens at the National Centre for Craft & Design: 14 January to 12 March 2017
20 March - 24 April - Sheffield Institute of Arts
17 May - 30 June - The Goldsmiths' Centre, London
7 - 9 July - ACJ Conference, Sheffield
11 September - 23 October - School of Jewellery, Birmingham
December 2017 - January 2018 - The Craft Study Centre, Farnham
Catalogue Available
The catalogue is priced £5 + £1.50 p+p from enquiries@acj.org.uk
20 Years of the ACJ
Mooted in 1996 at the Jewellers' Exchange conference, ACJ was formalised in 1997 to promote the art-form, to support the makers, to delight and inform the collectors, curators, gallerists, educators and all those interested in jewellery. ACJ has a record of excellent and exciting exhibitions which have all been juried to very high standards, showing the panoply of modern techniques, responding to the themes with imagination, wit and panache.