Large Scale Art Installation, Boomtown Festival UK Ltd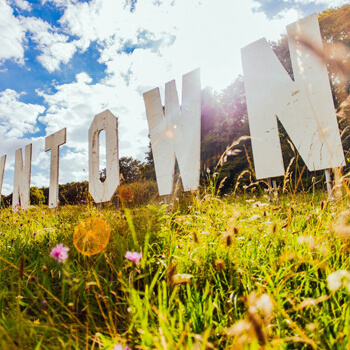 Between 1st – 8th August .
natalia@boomtownfair.co.uk
Commissioning Opportunity for Large Scale Art Installation
Boomtown Festival UK Ltd
Boomtown Fair are looking for Artists who can interpret the following brief and submit proposals for a Large scale Outdoor Art Installation to be positioned up on a hilltop look out point looking out over the festival.
The space is green field, an Area of outstanding natural beauty in the South Downs National Park.
We would like a sculptural Art installation to contain the following elements
Providing welcoming safe space for festival goers to enjoy a moment of calm and reflection away from the hustle and bustle of the festival
Places to sit to take in the views across the valley
Reference to thought provoking subjects raised in Chapter 9 of the Boomtown Story such as corporate greed, mass media manipulation, powerful puppet masters, political game playing, divisive agendas.
An interactive element (i.e. messages for loved ones - wishing tree)
To be accessible day and night
To be visible and recognisable for what it is from afar as well as up close
To contain elements of nature and echo the natural surroundings
Be sensitive and complementary to both the festival environment and the natural environment.
Role Summary
The applicant/applicants will be responsible for the design, installation and management of the area throughout the festival. Your design will need to be approved by the festival Creative teams and health and Safety teams and we will remain in close contact with about the project. We will be able to provide some stewards to run but if there are elements that need to be managed (such as fire or a way of displaying thoughts or wishes) this would be managed through a team you would provide.
You will provide all Method statements and Risk Assessment for the proposed Installation.
Deadline for Applications
April 30th 2017
Decision made by: May 10th
Installation Date
Between 1st – 8th August . Derig date : 14th August.
Event Date
10th - 13th August 2017
Fee
£10,000
Contact
Email natalia@boomtownfair.co.uk for full details.