Watches of the famous on offer at Christies Rare Watch auction
Watch owned by Andy Warhol, to go up for Sale at Christie's Auction, amongst other Rare Watches
1 min {{readingTime}} mins
Two-hundred-and-fifty-four rare watches will go up for auction at the Four Seasons des Bergues in Geneva next month. The auction is estimated to amount to around 12M CHF, which converts to just over £9M.
The top lot of the sale, estimated to reach 1,ooo,oooCHF/76,5564GBP, is an exquisite pink-gold Rolex reference 6062 "Stelline triple calendar with moon-phase, with the sought-after star dial. Scholars estimate the number cased in pink gold to be around 50, with only 10 featuring the rare dial. Introduced at the Basel Fair in 1950, the reference 6062 is one of only two Rolex models from the period to feature a calendar complication with moon phase. The other is the reference 8171 'Padellone'. Unlike the ref. 8171, the ref. 6062 was housed in the iconic Rolex 'Oyster' case, which protects both movement and dial from moisture and dust. The mid-century Oyster case is a beautifully proportioned 36 mm. in diameter.
Perfectly complementing the top lot is the yellow gold "Padellone" reference 8171 consigned by the family of the original owner qa, as are two world-class vintage Patek Philippe perpetual calendar watches – the reference 2499 third series from 1977, and the reference 2497 dating from 1954.

Signed by Vacheron Constantin is an exceptional and probably unique five-minute repeating watch with single button chronograph created as a bespoke order in 1956 (estimate: CHF200,000-400,000). On numerous occasions, important clients pushed the design boundaries of brands to meet their special requests and the watchmaking companies delivered in their promise to meet the needs and desires of their clientele. The present Vacheron Constantin wristwatch is the ultimate expression of a great watchmaking house working closely with a client to deliver the previously unimaginable. In this instance, a gold five-minute repeating wristwatch with a single button chronograph.
Important Rolex watches naturally feature strongly in this auction, led by two of the most sought-after models of stainless steel Paul Newman Cosmograph. The "Panda" reference 6263 with Mark II dial consigned by descendants of the original owner carries an estimate of and a reference 6239 with three-colour dial dating from circa 1969. Once the property of Pop Art legend Andy Warhol is a stunning Rolex reference 3525 steel and gold chronograph (farthest right), sold as part of Warhol's jewellery and watch collections in New York in 1988, estimated to fetch CHF200,000-300,000, roughly £150,000-230,000.
A newcomer to the auction world is "La Montoya" (above, center), a unique prototype of the first skeletonised Rolex Daytona chronograph revisited by Les Artisans de Genève and developed together with Juan Pablo Montoya (b. 1975). It resulted from the collaboration of Artisans de Genève and the seven-time Formula 1 race winner Juan Pablo Montoya, in creating, for the first time, a skeletonized version of his favorite watch, the iconic Rolex Daytona. This prototype has been completed and handed over to him in 2016 and has been in his possession and regularly used also during races until its consignment to this auction. The proceeds from the sale will be donated to a charitable organization which will be announced after the auction.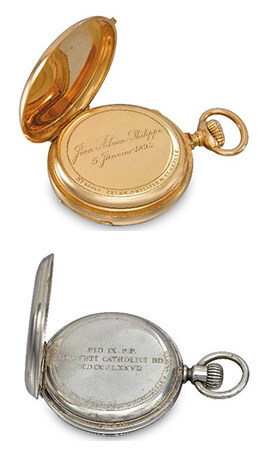 Amongst the pocket watch offering is the historically important personal watch of Patek Philippe's co-founder Jean-Adrien Philippe (1815-1894). Consigned by his descendants, it features Jean-Adrien Philippe's famous design for the two-train independent centre seconds movement and is one of the first ever to be made according to Swiss patent no. 1017, dating May 1889. Mr. Philippe invented the first mechanism for watches which allowed them to be wound and set by means of a crown rather than a key and was rewarded by a Gold medal at the Universal Exhibition in Paris, in 1844. A year later, in 1845, he patented his invention and founded with Antoine de Norbert Patek the watchmaking company Patek Philippe. Consigned from the same descendants of Jean-Adrien Philippe is
another remarkable and highly personal piece of Patek Philippe history, Jean-Adrien's son, Joseph Émile Philippe's watchmaking school timepiece. Signed by Émile and dated 1889.
Continuing the theme of historic Patek Philippe watches is a silver pocket watch presented to Pope Pius IX from the Swiss Catholics to celebrate his episcopal golden jubilee in 1877. Engraved with the Pope's coat of arms it is estimated at CHF20,000-30,000.
Two Audemars Piguet complicated watches are additional pocket watch highlights - the case and dial indexes of the unique gold and malachite minute repeating perpetual calendar watch were made by Cartier as a special commission by the present owner in 1977.
Amongst the more antiqued, are a selection of desirable modern wristwatches, courtesy of two private collections. The first, the Property of an Important Swiss Private Collector, has been compiled over the last decade. Highlights of this collection include watches by Richard Mille and a selection of hard-to-get modern Rolexes including Cosmograph
Daytona and Submariner models. By Richard Mille are the two illustrated watches, a RM35-01 Rafael Nadal, and a RM11-01 Robert Mancini.
The second private collection, the Property of an Important European Collector, consists of contemporary wristwatches made by the world's most celebrated manufacturers, preserved in excellent overall condition and sold with the full sets of accessories. The star lot is this unique Patek Philippe ref. 5077 wristwatch in platinum, with cloisonné enamel "American Eagle" dial made by the celebrated Anita Porchet.
The tour dates begin tomorrow, on New York. From there, they will travel to Hong Kong and Taipei, before going on auction in Geneva on May 13th.
{{'2019-04-11T15:14:04.0927835+00:00' | utcToLocalDate }}